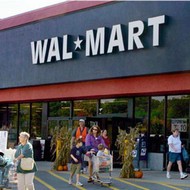 Indian supermarket chain owner Ramesh Lahoti says he has every reason to fear encroachment by global retailers - since 2007 he has had to close five of his MK Retail stores in the southern city of Bangalore due to stiff competition from Germany's METRO Cash and Carry.
If Wal-Mart, the world's biggest retailer, sets up shop near his existing eight stores in India's third most populous city, Lahoti says the future of the family-run business will be in jeopardy.
"There's a question mark over the future of my establishment," Lahoti, 50, told CNBC. "We cannot compete...What will happen when I keep on closing my shops? Ultimately after 10 years there will only be big retailers."
Wal-Mart Effect Inflated?
Wal-Mart has said it hopes to open its first stores in India within 18 months. Under the Indian government's latest proposals, global firms like Wal-Mart and Britain's Tesco would be able to buy up to a 51 percent stake in Indian supermarkets.
The new rules will enable global retailers to sell directly to Indian consumers. Previously, multi-national retailers could only operate wholesale businesses.
India's retail market will nearly double in value to USD 810 billion by 2021 amid increased consumption by a rapidly growing middle class, according to Technopak.
Evidence that mom-and-pop shops are holding on to their huge market share despite the emergence of local supermarket chains like Big Bazaar in the last five to six years shows they haven't been significantly impacted by corporate chains, said Dheeraj Sinha, author of the book "Consumer India: Inside the Indian Mind and Wallet."
"A lot of them [kiranas] have undergone a makeover and they've started stocking things that they wouldn't otherwise stock," Sinha said. "The neighborhood retailer has actually upgraded themselves to the challenge."
Location, Location, Location
Ultimately, consumer spending habits could determine whether or not India's local retailers are able to compete alongside the likes of Wal-Mart.
Miloni Shah, 27, who also lives in India's financial center, said she looks forward to visiting Wal-Mart for items she needs on a monthly basis, and still plans to shop at the neighborhood store for daily goods.
"All the local grocery stores are really small, cramped and you don't even have the option to walk around and see. You go there knowing what you want and you ask for it," the private equity professional said. "But when you go to Wal-Mart or a big supermarket, you have the whole concept of taking the cart, walking around, seeing things you want."
Software engineer Pavan Kumar, in Pune, a tier-two Indian city, backs that sentiment, saying that while he expects a better shopping experience at Wal-Mart, he does not expect a drastic change to the way he shops.
"Over the last 10 years, we moved from small shops to the bigger malls and retail chain stores," Kumar said. "Wal-Mart will be another addition; it's not going to produce something totally different."